News
October 21st 2009
Hi there y'all.

Its' been a looong time since I last updated this site, I am sorry but take it as a good sign of me being busy making music for you all.
I just finished the mixes for the new Mnemic album. I am really really excited about this one. It will show you a more mature band with better songwriting skills than ever. Heavy moody songs all over. The response to the songs so far from label and the few press people who have heard it so far have been overwhelming. Be affraid, Muhahaha...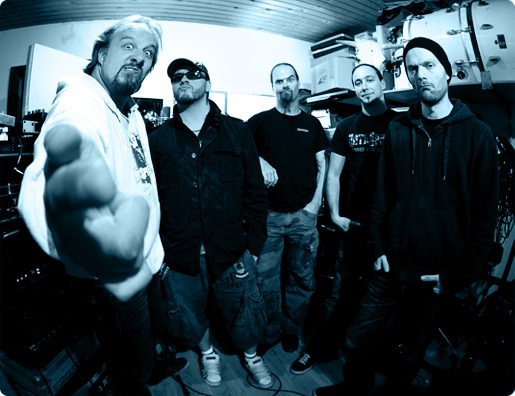 At the same time I am also sort of working on the new Dark Tranquillity album. Sort of because I helped with the set up and they are presently recording the album in Sweden without me. Now I started the mix of the album, and so far the songs I have heard sound very very cool. Don't forget the live DVD from Milan which is just about to hit the shops now... which I mixed... Great show!
This summer was spent around Europe. First I was in Italy tracking drums, bass and guitars for Figure Of 6 at Fear studio. I am going to do the mix later this year when they have finished doing the synthstuff and vocals.
Right after that I was in Spain to re-record the first album of Spanish band Soziedad Alkoholika in Music Lan studio a little north of Barcelona. That was the nicest album to work on. Great rooms, great equipment, great people, great food, swimmingpool, sunshine... and good music of course ;-).
I also mixed a few live songs for a DVD release by this band. I am looking forward to repeating the experince next year when it's time for the real new album.
Mantric have inked a deal with Prosthetic records. It makes me very happy to see. You all have to go out and get this album! For those who don't know, this is what rose from the ashes after Extol split up and it is quite simply greatness! go out and get it! That is an order, dude!!
Supercharger is a danish band playing RnR have released their debut album produced by me. It's a great party record for sure!
Vader and Winds Of Plague put out new albums recently both mixed and mastered by yours truly.
Next month I will go to Copenhagen to record the new Sick Of It All album. The demos already sound good. That is going to be great.
---
March 8th 2009
Hello there.
Lots of things have happened since last.
Right about now you will be able to hear a new album fromHateSphere with the whole new line up. It's killer I have to say. The new Ektomorf album is causing people to talk already. We really came up with a new approach to Ektomorf this time. Think AC/DC and Boney M... Big phat sounds heavier and deeper than ever before. We are very proud of it and hope you will all enjoy.
Earth Crisis is coming out in a second as well, sounding very fresh. exciting times...

My old friend Alxxx, former singer of my old band, Grope has a new album out with his band Monstah. It is in danish(!!) and its great. Check it out.
I have been getting busy with the new Engel album for a while as well. I can't wait for that one to be unleashed on the world, but right now we are not sure exactly when it is coming out. Those of you who have been following me for years will know that I have been doing stuff with these guys for years and it feels so good to finally do the album we always wanted to do with each other.
I have been working on a few Live DVDs mixing in 5.1 surround. Dark Tranquillity recorded in Milan and Heaven Shall Burn recorded in Vienna. Great amazing crowds at both shows. Truly amazing. Cant wait to see it with the edited pictures.
For the past 4 weeks I (or that should maybe be [AMATORY]) have been number one on the biggest Russian rock radio station. Outside of Russia you probably never heard of them, but over there they are huge. Amazing band!
I would like to also mention some friends of mine who make some outstanding pedals.Emma Electronic have come up with an overdrive pedal to end all tube screamers. Together with my old Marshall Master volume that I got back after living without it for more than a decade, it is pure art! But it also works wonders to all my other amps getting that gain and tone just right. It's called Stinkbug. Go get it.
Right now I am mixing a band called Mantric which features ex-membersof Extol, meaning: excellent music!!!! You better check up on them. This stuff is truly greatness.